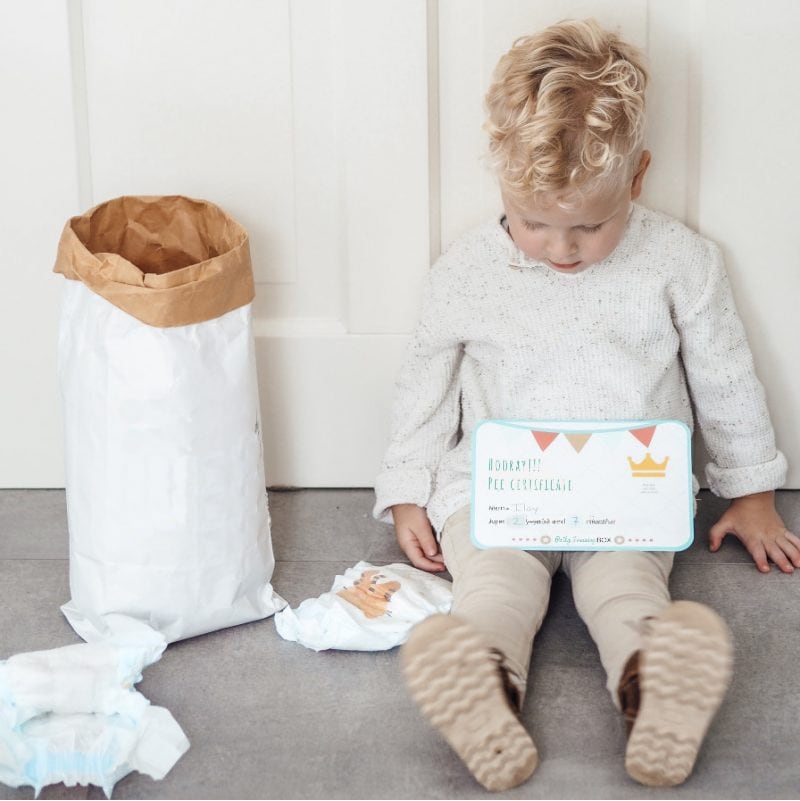 The potty training journey
Imagine if your child was potty trained one week from now.
No more hassle changing nappies, money saved each month, and much less waste.
It's a triple win; great for you, for your child's self-confidence, and the environment. Both yourself and your child will feel so proud!
Our programme makes this all possible.
Our potty training help comes in an easy step-by-step format, allowing you both to persevere and succeed!
Check out our 10 steps for successful potty training.
This programme is based on the experiences of two parents with three super sweet and head-strong children. Our potty training tips have been tested by experts and used by over 10,000 parents already!
What's in the box?
Training programme
Instruction cards
Compliment cards
Schedules (an overview of when your child needs to pee)
Sticker cards
Fun animal stickers
Certificate
Access to our private Facebook community where you can ask questions and share your experiences.
"We wanted to give parents the confidence to start potty training from age two, in a way that is fun for both parent and child."
Why did we develop our potty training help programme?
Because we want to help parents successfully potty train their child within one week. We felt that coaching was essential to keep persevering!  
This is an intense programme with great results! Your undivided attention will be required for one week (Tip 1: if possible take it in turns. Tip 2: school holidays are ideal). You'll have your child potty trained quickly and effectively, leaving you both feeling proud and with more time to spare.  
Is 2 years old too young to potty train?
On the contrary, it's a good idea to start before the 'terrible twos' when your child shows an interest. If your child doesn't show any interest by age two, try beginning potty training by age 2½. Ideally, your child should create a new habit before joining pre-school. Take a look at our signs that your child is ready to potty train.
Benefits
A confident child
Money saved*
No more hassle changing nappies!
Environmentally friendly*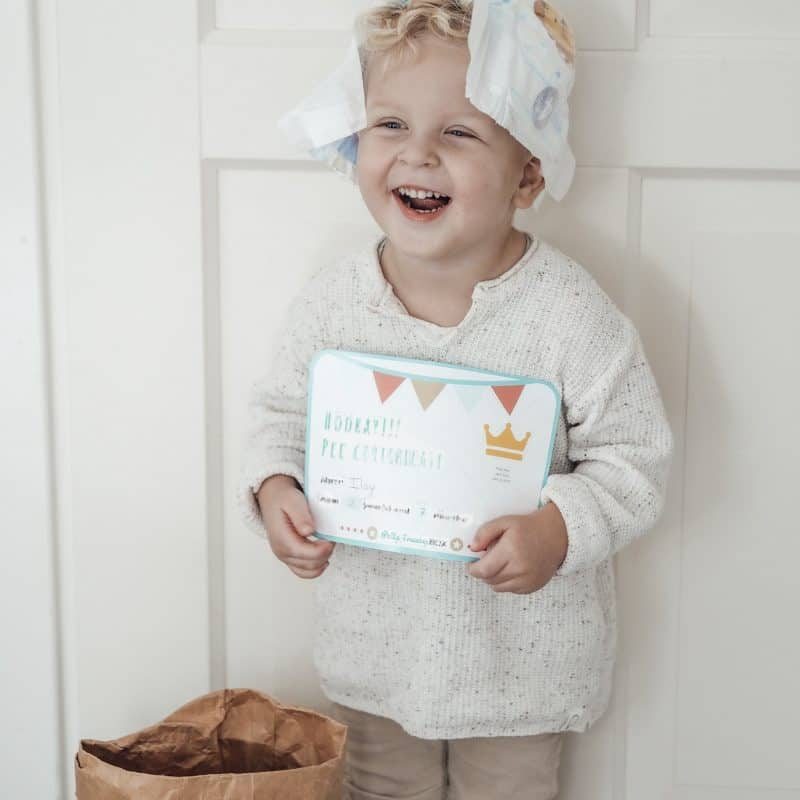 What others think.
"We've had so many positive reactions to our Potty Training Box. We're just thrilled that we can support other parents like us." 
"Thanks to this programme, my son went to daycare without a nappy on and did not wet his pants once! I am so proud of him and really happy that we achieved this so quickly! Thanks so much."
"We started this programme one week ago. And now? Now we can proudly say that our daughter is potty trained. She stayed dry during her first car journey without a nappy, on day trips, and even her afternoon naps. Wow!"
"Having a box full of other parent's experiences is well worth the money."
"Well thought out and well structured. I recommend the Potty Training Box to parents who are about to enter the wonderful world of life without nappies."
"This was an extremely successful week for her self-confidence too!"
"There is so much information online, but I was looking for a complete package that I could give my daughter, to spark her enthusiasm. Making a sticker card myself didn't work, but this box did!"
"My child loved the sticker card with stickers. She was so proud when she was allowed to stick another one on. I was sceptical, to begin with, but now to recommend the potty training box to everyone!"
"I had trouble potty training my 3 ½-year-old, but this was a really effective programme."
"So much fun! We're definitely fans of the box and the positive approach for the child. It's so nice to see them enjoying it too!"
"Our daughter was actually younger than advised and is now potty trained. Because the programme motivates both yourself and your child towards a common goal, you both persevere. I think I might have given up by Day 2 otherwise!"
"The private Facebook group provided heaps of support. The instructions in the box were really clear but we also had questions specific to our son and this community really helped."
Note: These reviews are translated from Dutch, as we just started in the UK.
PROUD PARENTS AND CHILDREN
After completing the potty training programme, you should feel very proud of both your child and yourself!
We love our WALL OF FAME 🙂
Also available on Amazon.co.uk
* You'll save between 30 and 60 pounds per month on nappies/wipes and you'll produce 22 kilos less waste