Potty Training Box
Inside the Potty Training Box, you'll find all the necessary instructions to get your child potty trained during daytime.
You'll be coached, step by step, on how to go about this – what you can best say and do. This approach ensures that you keep at it and succeed! This programme makes potty training fun. We bet that your child will be eager to start!
The training programme booklet contains instructions and frequently asked questions with answers. The instruction cards are quick guides to remind you of what to do each day. When you have run out of compliments, you can use the compliment cards. And with the potty training schedules you can discover when your child needs to use the toilet, which will increase your chances of success.
The sticker cards with varying numbers of boxes (three to nine) on them let you know when to reward and, when your child is ready, when to do so less frequently. The box also contains fun animal stickers to stick on the cards when your child has been successful.
Your child gets a special pee certificate at the end of the programme.
Includes access to a private Facebook community for pottytrainingbox.co.uk customers. Here, you'll find the experiences of other parents who have started the potty training programme and you can ask us questions. This enables us to support you in every possible way during potty training.
No more nappies to change after this week.
Together, we're going to succeed! 💪🏻 It just takes one week!
Introductory price:
£31.95
Includes online support by expert
Share your experience with other parents during training
Description
What's in the box?
1 Training programme
7 Instruction cards
6 Compliment cards
14 Schedules
20 Sticker cards
120 Fun animal stickers
1 Certificate
Access to the support Facebook community*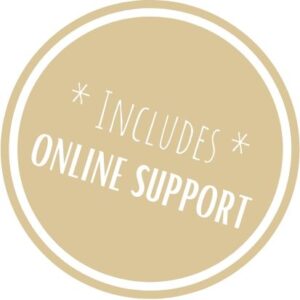 What else do you need to make the potty training a success?
What will your child learn?
To let you know when they need to pee or poo
To progress from the potty to the grown up toilet
To hold their pee
What will you learn?
That an accident is a learning opportunity
How to deal with potential resistance
Perseverance, perseverance, perseverance…
Want to know more about the programme? Take a look at the FAQ.
Will you have other children to potty train in the future? You can use the same Potty Training Box; new sticker cards and stickers can be ordered separately. This is also handy if you have twins, you don't need an extra box.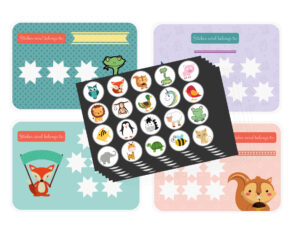 * for one year, starting from when you sign up to the group.
Reviews
These reviews are translated from Dutch, as we just started in the UK.
Thanks to this programme, my son went to day care without a nappy on and did not wet his pants once! I am really proud of him and really happy that we achieved this so quickly! Thanks so much!

We started this programme one week ago. And now? Now we can say that our daughter is potty trained! She stayed dry during her first car journeys, day trips and afternoon naps. Wow!

Having a box full of other parents' experience is well worth the money.

Well thought out and well structured! I recommend the Potty Training Box to parents who are about to enter the wonderful world of a life without nappies.

This was an extremely successful week for her self-confidence too!

There is so much information online, but I was looking for a complete package that I could present to my daughter and spark her enthusiasm with. Making a sticker card myself didn't work, but this box did!!

My child loved the stickers and the sticker cards and was so proud when she was allowed to stick another one on. I was sceptical to begin with, but now I'd recommend the box to everyone.

Amazing! It looks great. On day 1 my daughter had a lot of accidents, but after that only one and then none at all. Pooing was a bit troublesome, but after a week that went well too. Since doing the training programme there has only been one accident (she just didn't want to). After that there were no more accidents and she's doing great! I had no idea you could potty train in this way. I highly recommend this programme!!!

So much fun! We're fans of the box and of the positive approach for your child. It's so nice to see them enjoy it too!!

The Facebook group provided the most support. The instructions are clear, but we did have some doubts about those little particularities that weren't mentioned in the programme.